I had to create a 2-D poster and 3-D signage for a
new design studio
(hypothetical). I had to create a client brief also hypothetical and confusing as I am the client ! I chose a suburb in Australia that is quaint with cute, heritage listed shop frontages; is wealthy and the hub of a creative scene.
My usual style is illustrative with rough sketch strokes but I tried for a more polished look with this. I would need to know:
1. Which is your favourite.
2. Does it reveal originality and eco friendly practices.
3. Does it tie in with rural yet artsy and trendy township.
4. Is it professional enough or do I need to learn more tools. esp regarding signage. Does it look 3-d'ish?
5. Is it eye catching?
6. How can I improve?
All tips and suggestions are welcome.
....We were not required to design a logo but I felt it was necessary to do so. Any feedback on the logo would also be appreciated.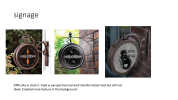 Poster mock ups