Looking to start doing some hatch shading. I'm trying to emulate this style: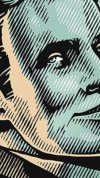 The line variation makes me think a tablet was used. But the consistency of the angle would be REALLY tough to do. While the faces might be hand drawn and scanned in, I think the lines were added after.
What's the most effective way to achieve this result. I really want the thin - thick - thin type of hatched line.
Are there any brush packs out there you think would do the trick? I did run aross this one but from the preview it looks like the hatchings are way more distressed than what I'm looking for.