Hi everyone.
My client is a personal trainer that is looking to start up a clothing brand.
I presented him with a handful of ideas and we have both strongly agreed on this one.
Having searched many sites, including a reverse image search on google, I still haven't found any evidence of it existing... But I'm still finding it hard to believe to be honest.
Also, if it turns out a logo is vaguely similar, what would I do next? The client doesn't have much of a budget, so I don't have much more time at all to spend on this project.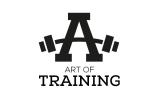 [Please note, this isn't the final result as I would like to get more confirmation before I continue refining it.]
Thank you.