Hi,
I know what I after, I am just unsure how to go about producing in a manor that allows quick implementation in future. So here goes…
I have a lot of indesign / pdfs of documents I have designed. I do not have photographs of the finished print documents due to many reasons that are not really important right now.
So I wish to produce a template that I can import a flat image into with the end results looking like photographed documents. Attached are two photos I have taken and demonstrate the effect I wish to achieve.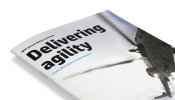 I can then upload these to my online portfolio.
Has anyone come across a tutorial of something similar, or just have a really good idea on how I could achieve this? Ideally I would obviously like to have the pages and shadows all laid out, and then import the flat images, but the final images retain the nice curves and shadows.
Thanks in advance