Hi all,

I've been racking my brains with this problem the last day or so and have posted this question on a few forums in the hope someone will be able to answer it. I can't find anything wrong with how the document is set up or any reason why it wouldn't work.



I'm creating an interactive PDF in InDesign CS6 which has 10 pages - pages 1 and 10 are covers. I have a contents page (page 2) that will allow users to jump to specific pages by clicking on the page title/ number by way of buttons with the 'go to destination' function.
After successfully setting the first 3 pages I 've realised that pages 5, 9 and 10 are missing from the destination drop down - See screenshot.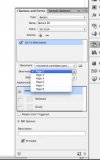 Does anyone know why this may be? i've tried reopening the document but it's still happening. I can't understand why, as the pages exist in the document, it won't give the option to select those pages.
Any help would be appreciated.