Hello everyone
First of all, this is a great forum and I'm glad I stumbled upon it. I would be thankful if some of you more experienced designers out there could give me some feedback on a logo I'm designing.
I'm part of a singing group called 'Filey Amateur Showgroup'. They've never had a logo or anything before so I'm taking upon myself to change this. Filey is a small, seaside town and I wanted to reflect this in the logo design. One of the main problems I've encountered is that the name of the group itself is very long and hard to incorporate.
Anyway, after months of scribbling on pad, researching ideas and messing around in Inkscape, I finally came up with this:
The colours I've chosen aren't final but I quite like the nautical scheme. The logo, however, does lend itself to many variations: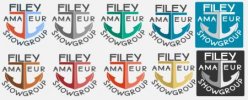 What are your thoughts on the overall design? I don't know if it would benefit from being on some sort of background, within a vintage badge design or whether to leave as is.
Thanks in advance for any comments
Tom Shelton