Hi All,
I have been looking online for tutorials on creating realistic reflections in photoshop with no success.
I have no problem with creating reflections of an object that is facing straight on, this is fairly simple. I mostly work with packaging visuals or food products and was wondering if anyone has some good techniques for creating reflections from a different angle?
I have attached an image to show an example of the kind of effect I'm referring to.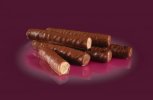 I wasnt sure if I should physically cut each individual product and rebuild the image as a reflection, if others have a technique thats quicker and more effective or point me in the right direction of a tutorial/action.
I would love to hear others experience on this.
Thanks