Hi Guys,

Today after clearing my Cache and Cookies, I noticed that Google Chrome is no longer displaying the correct fonts on SkySports.com (a website I frequently visit on my break). Rather than display the Sky font called 'SkyText Medium' it is displaying 'Helvetica' and 'Times'?

Please see below. Red highlights are the incorrect fonts Google Chrome are displaying. Green highlights are the correct 'SkyText Medium' fonts Safari is displaying: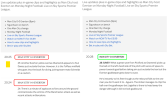 I have tried uninstalling and reinstalling Chrome but it has not rectified the problem. Only a graphic designer would even care about such font issues haha, it is driving me crazy!

Any ideas?