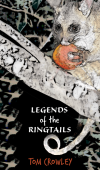 This is my next assignment: a book cover for a mythological story ( plus lots of other things).
I wanted to use something I had an original photo for so ended up with the ringtail possum.
Any tips, suggestions, critique welcomed.
I guess my questions are : would the cover attract someone to look twice at the book?
Should I do a border or just have it as is on black gloss soft cover?
Is it transferable to a poster or ad? or should I make adjustments?