Hello creative ppl ;-)
i know jack all about graphic design but i am going to spew my thoughts down here and then its up to you. ;-)
I am requiring logo designed based around a brand that i want to create. in order to understand what brand i am trying to achieve i think you need some background info. sorry if this bores you.
i am a l
ocksmith
in the yorkshire area.
I provide one of the cheapest locksmith services in the area but dont want my brand to appear cheap, but must convey i am a
local
business providing awesome
trustworthy value
without being cheesy or cheap. i like the michelin logo with the tyre man btw.lol.
i want a simple but bold logo. it must have
IMPACT
. ive trawled through professional logo design websites for the last 2 hours and tbh loads of them whilst having awesome skills the logos are too......forgettable. helvetica overkill. they seem fragile like they will float away in the wind if that makes sense?? may seem contemporary/modern but in my uneducated opinion.....forgettable. thats the 1st bit of the brief.
2nd part is what my business is particularly focused on and how i attract my customers. for this you need to do a little research on lock snapping...just youtube search lock snapping and you will see what i mean. millions of homes are vulnerable with the normal cylinder locks. i simply change the lock for a
anti snap lock
....simple...almost too simple but the market is huge. ideas for this bit included a army issue stencil font saying
combat locksnapping
in your area of something similar but my tradename is mr-lock.
so that is the logo side of it.
the 2nd part is how i get my customers. believe it or not it is door to door sales. leaflets are ABSOLUTELY CRUCIAL. double sided a5. 1 side info on on locksnapping, on reverse why to use me and price offers etc
i have spent 11hours!!!!! in photoshop fumbling around to design a logo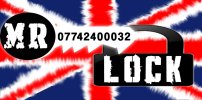 my 1st ever attempt. god damn layer mask....argggghhhhhh. i know the key and lock looks bad but 1st time i ever used it.bit of a prototype. ;-) it doesnt tick the local box.
i hope this doesnt seem too restrictive as I am paying you guys for your skills and creativity so if you have an idea dont be frightened to share it. just thought it would be good to let you know my thoughts.
Last edited: