Help!
I need to print some business cards for work however, the colours seem to show up differently in the
online proof vs my illustrator file
(See attached).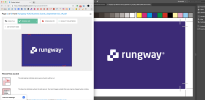 I'm uploading the files to a standard printing company online, but the colour of the purple goes more of a blue in the preview. The file is a print-ready PDF which when I open shows the same colours as my file, except for when I upload it to be proofed. Is this my fault or theirs?
Any advice on how to fix this would be great!
Thanks