Hello There,
Been working on a logo for quite a while now, thought it's time to get some help and fresh ideas so looked up and found this awesome place.
Logo is for a small soccer ball manufacturing business. Here are few attempts (there are lots more, but the rest are even worse):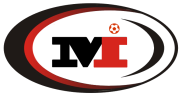 BTW, these are my very first attempt on this, so it is what it is
This logo will be printed on footballs which may very in colors, so plan is to choose a logo which is prominent (M-Impex or preferably MI should be visible clearly).
I personally think that logo should be black (on white background), simple and sleek and ball is not necessary to be in there.
Any ideas, improvements are appreciated.
Thanks in advance