The harsh critique I received here was the jolt I needed.
I went back to the drawing board , looked at some inspirational posters and came up with a much better design. The assignment is to advertise the hypothetical opening of a design studio ( signage and poster).
This is much better start , having a poster I feel happier with. The ringtail possum is an adorable creature in Oz so it was great the poster has something I resonate with. I know it is still v amateurish looking but I am an amateur!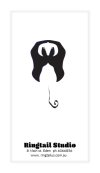 Onwards and upwards...
Happy Christmas to everyone. It too shall pass