Hello,
I'm looking for a way to replicate this linear VHS effect.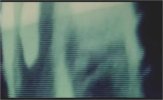 Was this effect made originally by scaling up a smaller video or is this an effect from a specific type/quality of VHS video?
I don't have the means to replicate it using tape it self so was wondering if anyone knows of:
1. A way I can get this effect in photoshop for a static image
2. A way to create the same effect for moving image in after effects or whatever software works (preferably after effects so I can transfer things across if needed)
I have found a couple of tutorials that may work but they seem to produce a more 'clean' effect whereas I'm looking for this softer analogue look.
Any help would be appreciated,
Thanks