Hi Everyone,
Im unsure if my question has a solid answer but after doing a bit of searching around i havent been able to find a definitive answer.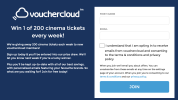 Myself and my colleague have a different ideas about the alignment of the copy of the left hand side. The paragraph at the bottom is fine. im sure we all know that long copy always needs to be aligned to the left (maybe some times to the right)
my query is the header.
would you align it to the left or centred?
I personally think that because its a header and is under two/three lines would be fine to have in the middle.
Am i wrong? its bugged me for quite some time now and would like any info people can provide.
a Link to a article or book would be most appreciated
cheers guys!