This site uses cookies. By continuing to use this site, you are agreeing to our use of cookies.

Learn More.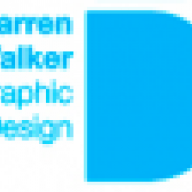 Last Activity:

Dec 10, 2015
Joined:

Jul 17, 2012
Messages:

13
Likes Received:

0
Trophy Points:
Location:

Occupation:

Graphic Designer
Loading...

Loading...

About

Location:

Occupation:

Graphic Designer

From a young age I was influenced by Rolf Harris and learnt from him that the smallest elements of an image are intensely important. They make the overall image, but each part has gone through its' own individual process of development and consideration that complements the others. I have carried out this train of thought throughout my design career, looking at all aspects of design detail whether minor or major.

I have attended and successfully completed a variety of courses allowing me to gain essential knowledge and skills. The last two being an HND and a University course in graphic design, in which I was placed straight into the second year of a three-year course. During and on completion of these courses I have never stopped learning and applying my talents, from conceptual thinking to solving problems such as creating a technique to design an optical illusion. I have been quizzed by tutors and colleagues on how I achieved this illusion, but have kept the secret recipe!

Previously i have owned my own design company named Platoon Creative Ltd from sourcing financial backers and collaborating with two other designers. My roles were graphic designer, time management, organising meetings, liaising with clients, and networking. Whilst running the business I also developed and implemented a workshop teaching troubled kids graphic design with a youth company called The Cotch. This was a great success and not only was it involving kids who would not necessarily get the opportunity, it was beneficial to my office to communicate and collaborate with enthusiastic individuals. Due to unfortunate circumstances with the financial backers, we could not continue.

Owning the business allowed me to gain knowledge and skills (not only applicable to design) and I utilised these when I went back to freelancing. I then joined Pocket London who specialise in bespoke guide booklets. Duties entrusted to me included designing all their bespoke guide booklets, handling print and printers, colour management, digital work such as web banners and online ads, documentation and proofing and designing in-house and outside advertisements whilst following brand guidelines.

Whilst managing my workload I conceptualised and designed a website for Pocket London based on our target audience of being a tourist where all their needs could be met without leaving the site. I introduced functions such as a translate button changing the entire site content to the viewers language; free translator device for viewers to type in phrases; a live chat room for the audience to converse; an events calendar where-by dates could be paid for by promoters and lastly, a world time page that I suggested could be sponsored by Rolex or another high profile watch manufacturer, which would then generate revenue for the company.

Due to the financial climate at the time and relying mainly on print media, Pocket London had to close therefore making everyone including myself redundant; I left on good terms with the manager. After my time with the company, I have carried on freelance working with a variety of clientele who have benefited from my knowledge that I have obtained throughout my career.